Treating liver cancer at ISMETT
Published: 2022 February 08
On the occasion of the World Cancer Day on 4 February, we talked about liver cancer with Dr. Salvatore Gruttadauria, Director of the Department for the Treatment and Study of Abdominal Diseases and Abdominal Transplantation at IRCCS ISMETT and UPMC Italy.
Dr. Gruttadauria, since many years IRCCS ISMETT has been operating in the field of liver cancer treament. Can you share with us some of the results you have achieved?
Only in 2021, we performed 120 liver resections, 82 liver transplants, and 50 other liver-directed surgical procedures such as laparoscopic thermoablation: this means that we have surgically treated approximately 250 liver patients. This is indeed a very significant number of patients. But even more significant is that both mortality rates and postoperative complications are very low at IRCCS ISMETT. AGENAS (the Italian Agency for Regional Health Services) has recently published postoperative survival rates for 2017-2019, and our Institute has achieved excellent results. IRCCS ISMETT represents a center of excellence for the liver cancer treatment in Italy. Our strength is the range of comprehensive care we offer our patients: from traditional resection surgery to minimally invasive laparoscopic resection surgery, and liver transplant. Moreover, thanks to the use of perfusion machines, we are able to recondition otherwise unusable liver grafts making them suitable for transplantation.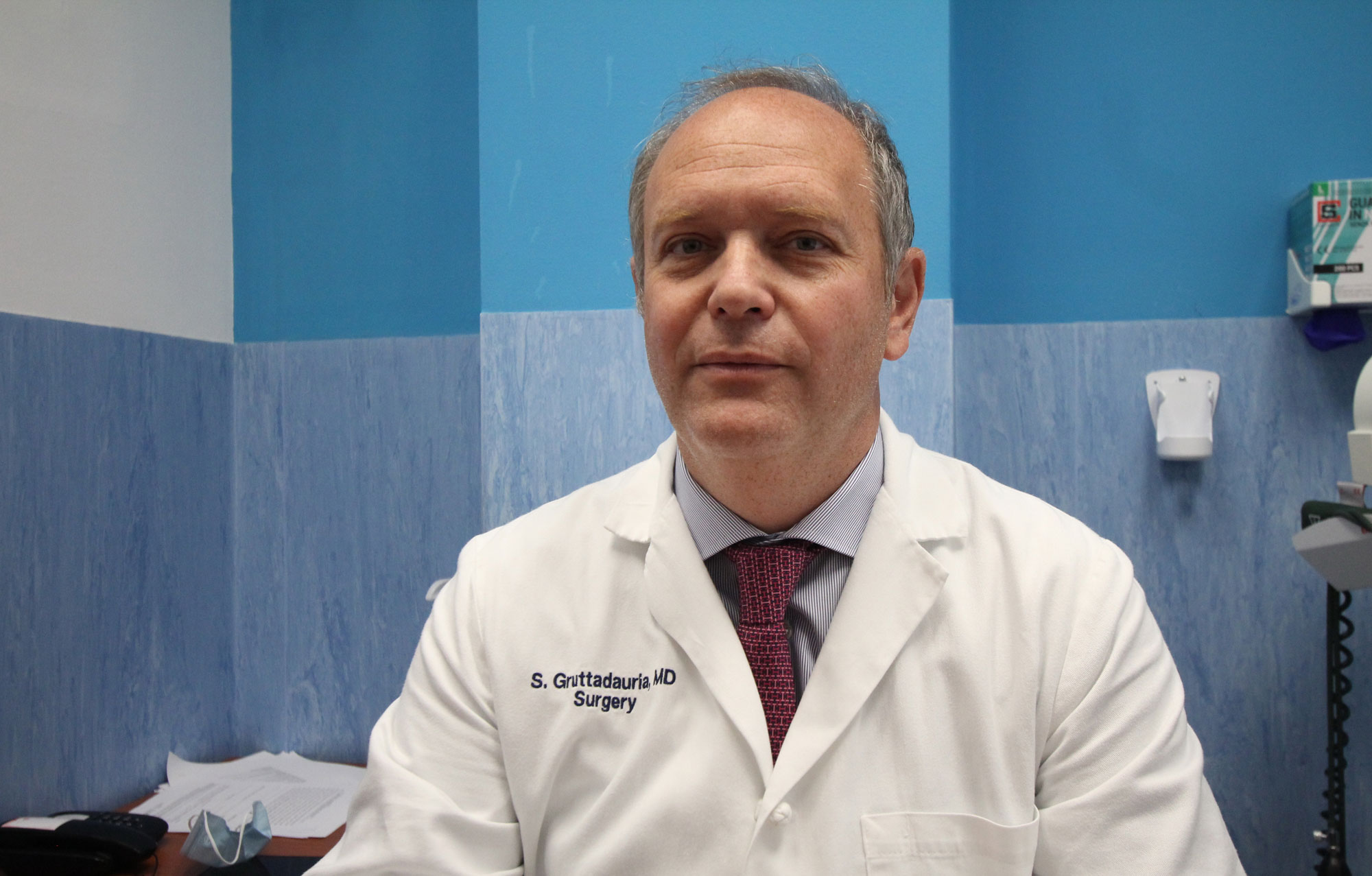 Dr. Salvatore Gruttadauria, Director, Department of Abdominal Surgery ISMETT – UPMC Italy
What exactly do we refer to when we talk about liver cancer?
This term indicates different types of cancer: some of them originate in the liver, and are the so-called primary tumors, while others develop in other parts of the body and later spread to the liver through the metastases. These are known as liver metastases or secondary tumors. It's important to remember that the liver, together with the lungs and the lymph nodes, is the most frequent site of development of metastases. Primary tumors of the liver include hepatocarcinoma and cholangiocarcinoma, both very frequent in the Mediterranean area and particularly in Italy. Hepatocarcinoma is the most common type, and in 80-90% of cases it is associated with a chronic liver disease, which may be due to an infection, such as hepatitis B or C, or to a metabolic disease, for example obesity associated with diabetes. In recent years, the latter condition is the one we encounter most frequently.
How is it possible to treat liver tumors?
Liver tumors are essentially treated surgically with liver resection or transplantation. Other therapies only have a palliative role. Liver resection consists in removing the part of the liver containing the tumor. A fundamental prerequisite for this type of procedure is that after removing the sick portion of the liver, the remaining mass is able to support life maintaining the metabolic function of the organism. This assessment is extremely important because most tumors develop in sick livers affected with a preexisting chronic condition or, in the case of secondary tumors, damaged by chemotherapy.

What's new compared to the past?
As for resection, minimally invasive surgery such as laparoscopy is the main novelty in recent years. This technique, which involves performing small incisions and using high-definition cameras, allows if necessary to more easily perform a second resection because it doesn't cause post-surgical adhesions. Also, it also allows to remove smaller portions of the liver, so that the patient can be treated again in the future in case of a cancer recurrence. For transplant, the main novelty consists in some new emerging indications. Until recently, cholangiocarcinoma or liver metastases from colon-rectal cancer were not treated with transplant, but only with resections. Today, some patients with these diseases who cannot access surgery (resection is always the first choice), after chemotherapy can be included in transplant experimental protocols. This is yet another useful weapon.
What is the strength of IRCCS ISMETT?
We are able to offer a comprehensive range of therapeutic options to liver cancer patients: from liver resections to liver transplants, and also therapies that can integrate surgery such as thermoablation of lesions using microwaves, or intra-arterial treatments. IRCCS ISMETT offers a multidisciplinary team approach that since recently also includes a medical oncologist. The concept of this disease is changing. It may reoccur after a treatment, but it can be managed with booster therapies and, depending on its stage, various medications that integrate surgery and that collectively can represent the best cure and result in better survival outcomes. We want to be ready for this change.