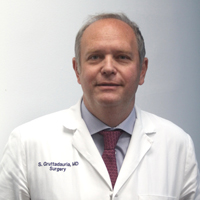 Dr. Gruttadauria has worked at ISMETT since its opening.
He was the first surgeon in the world to transplant a liver from a SARC COVID positive donor into an adult recipient and the first Sicilian surgeon to perform a liver transplant in Sicily.
In May 2017, he was appointed Director of Department for the Treatment and Study of Abdominal Diseases and Abdominal Transplantation. In April 2016, he was appointed Chief of the Abdominal Surgery and Transplantation Unit. He is Clinical Professor of Surgery at the Department of Surgery of the University of Pittsburgh School of Medicine and Professor of Surgery at the University of Catania. Dr. Gruttadauria has performed more than 7,000 major surgical procedures (470 laparoscopically). He is the author of more than 300 scientific publications.