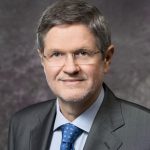 Dr. Angelo Luca has been working at ISMETT since its opening.  Thanks to his experience, he has contributed to the development of the training and research activities at ISMETT. He has also conducted several research projects on cirrhotic patients with portal hypertension and new therapies for the treatment of hepatocellular carcinoma, participating in European multicenter trials. The author of 132 publications in peer-reviewed journals, Dr. Luca has frequently presented his work at international conferences, and is member of several scientific societies, including the European Association of Study Liver Disease (EASL) and the Radiological Society of North America (RSNA). In 2014 he was appointed Vice Director of ISMETT, and since March 7, 2016 he is the Director of ISMETT. Since 2003 he is also Director of the Department of Diagnostic and Therapeutic Services (diagnostic and interventional radiology, nuclear medicine, pathology and endoscopy) and, since July 1999, Director of the Radiology Service of ISMETT.
In his career, Dr. Luca has been member and director of many ISMETT committees. The clinical activity performed at ISMETT by Dr. Luca includes interventional radiology, ultrasonography, CT and MRI with focus on liver diseases and organ transplantation. In 1999, he performed the first transjugular intrahepatic portosystemic shunt (TIPS) in Sicily on a cirrhotic patient.
Dr. Luca graduated magna cum laude in medicine and surgery from the University of Palermo in 1984. He then specialized in gastroenterology (1984-1988) and radiology (1995-1999). He was a clinical fellow at the Hepatic Hemodynamic Laboratory of the Hospital Clínic of the University of Barcelona, Spain (1990-1994), and was clinical research fellow at the Interventional Radiology Division of the University of Pittsburgh (1998-1999). He was visiting assistant professor and then adjunct associate professor of Radiology at the University of Pittsburgh in 2004 and 2005. He became a certified radiologist in the State Board of Medicine of Harrisburg, U.S.A. (1999-2000) and included in the professional register of medical practitioners of Dublin, Ireland (2011-2014).