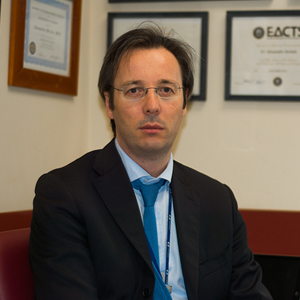 Dr. Bertani became an attending thoracic surgeon in 2007. Since 2011 he has been in charge of the Thoracic Surgery and Lung Transplant Unit at IRCCS-ISMETT. He is a Clinical Assistant Professor of Surgery at the University of Pittsburgh, and director of preclinical research labs at ISMETT. He has performed over 2,000 general and thoracic surgeries, and over 1,000 gastrointestinal and airway endoscopy procedures. He has specific competence in minimally-invasive esophageal and pulmonary surgery, and has been the coordinator of a thoracic surgery program at IRCCS-ISMETT since 2008.
Since 2005, he has contributed to the development of the IRCCS-ISMETT lung transplantation program, one of the most active in Italy, with about 15 cases per year, including lobe transplant from deceased donors in adult and pediatric patients, and extracorporeal respiratory support.  In 2006, Dr. Bertani performed the world's first lung transplant on an HIV-positive patient.
He graduated from the University of Pavia's Faculty of Medicine in 1998. After training in the General Surgery and Liver and Lung Transplantation Unit at the Riuniti Hospitals in Bergamo, he was a clinical fellow of cardiothoracic transplants (2002-2003) and minimally-invasive thoracic surgery (2003-2004) at the University of Pittsburgh (USA). He was a clinical fellow in cardiothoracic surgery (2005-2006) at ISMETT in Palermo. In 2006 he completed a PhD in experimental surgery and microsurgery at the University of Pavia's Faculty of Medicine.  He is enrolled in the national register of General Surgery and Thoracic Surgery.
He is a member of several International medical associations, including the Society of Thoracic Surgeons (STS), the European Society of Thoracic Surgeons (ESTS), the International Society for Heart and Lung Transplantation (ISHLT), the European Society for Cardio-Thoracic Surgery (EACTS), and several national scientific boards and committees.  He has been visiting professor in several lung transplant and thoracic surgery centers worldwide.  Dr. Bertani is a member of the Italian Society of Thoracic Surgery Board of Directors and of the Italian VATS Group.  He has been the principal investigator in several clinical and preclinical thoracic surgery and transplantation research projects, particularly focused on the fields of lung tumors, organ preservation, and lung transplantation.